FCT Assembly has developed AO1000 Anti-Oxidant Solder Additive to aid in reducing the solder dross buildup in both static and wave soldering pots containing SN100C. Dross buildup can seriously affect the wetting abilities of the solder and can cling to component leads when they are removed from the bath. Use of AO1000 Solder Additive also will reduce the loss due to dross formation, which can reduce solder usage by as much as 50%.
Attributes
Lead free
Less dross formation
Better wetting
Smooth, bright fillets
Lower solder use
Safer than chemical treatments
Less mess than oil covers
FCT Assembly has partnered with Nihon Superior to be able to offer their patented lead free nickel stabilized tin/copper wave solder alloy – SN100C worldwide. SN100C was developed to offer a technically superior and more economical option to the tin-silver-copper alloys also being considered. SN100C is also significantly less costly than other tin alloys including SAC305.
Attributes
Smooth, shiny solder joints
Low reactivity to equipment
Eutectic temperature
Allows for easy pot management
Low cost
Low dross formation
Available Products
SN100C: Wave, dip, reflow, manual rework
SN100Ce: SN100C bath maintenance
SN100CL: Hot air solder level (HASL)
SN100CLe: SN100CL bath maintenance
SN100C3: High temp tinning and dip soldering
SN100C4: High temp tinning and dip soldering
SN100C Wire: SN100C solid wire in various diameters
FCT Assembly provides pure Tin Bar Solder Additive to control the tin concentration in Sn63 / Pb37 solder pots. Over time the tin concentration in a 63/37 solder pot will drop and it is necessary to add pure tin to bring the solder back into specification. FCT Assembly Tin Bar is 99.9% pure tin.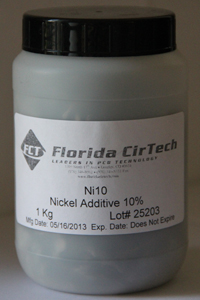 Ni10 nickel additive is intended to increase the nickel content of SN100CL lead-free solder. The normal replenishment alloy for SN100CL is SN100CLe. SN100CLe should be used for regular additions to maintain the level of the solder pot.
Attributes
Contains nominal nickel concentration of 10% by weight
Lead free