Solder Materials for IT and Telecom Applications
FCT Solder creates solder products with the challenges faced by IT and telecom manufacturers in mind. We're dedicated to helping you reduce issues and create high-quality products with durability and longevity.
Why FCT Solder for IT and Telecom Projects?
FCT Solder's products are all designed to solve problems, from voiding to tombstoning and beyond. Our solder paste, bar, wire, and flux technology are have all been thoroughly tested to ensure excellent performance.
What Makes Our Solder Materials Better?
We focus on:
Fresh paste, with orders shipped within four working days.
Low-graping products in both water-soluble and no-clean options.
Halogen-free and halide-free products with good activity and stability.
Process Solutions for IT and Telecom Applications
Solder Balls
This occurs sometimes during reflow and wave soldering due to issues such as poor wetting.
Recommended Products to Reduce Solder Balls:
High activity water-soluble solder pastes like WS890 and WS159 minimize the potential for solder balling. SN100C bar and wire solder are excellent for wave and hand soldering applications and can minimize the potential for solder balling. No clean liquid fluxes such as our NC165 and NC160 protect the solder mask and reduce the potential for solder balling.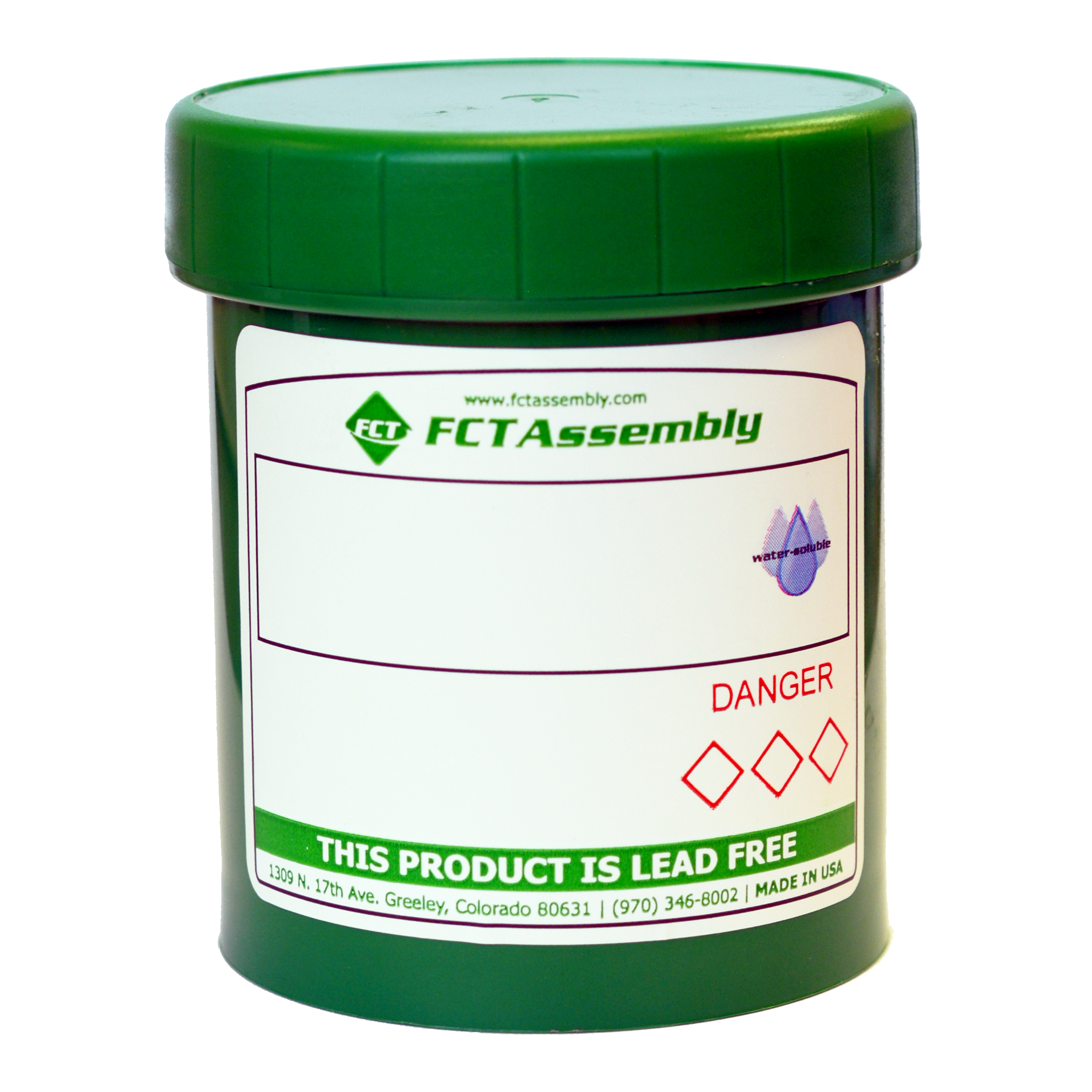 WS890
Attributes:
Flux type: Water Soluble

Alloys: Lead Free

Classification: ORH1

Halogen: Yes
NC165
Halide free
Very little residue
Eliminates solder balling
Low rosin content
With tombstoning, components that lift up during reflow cause an open pad at one end. Temperature differences between the ends of a component during reflow can trigger tombstoning.
FCT Solder's anti-tombstoning solder pastes use a mixture of alloys to create a wider melting range, equalizing the force at both ends of a component.
Recommended Products to Reduce Tombstoning:
Tombstoning can be minimized by using our Anti-tombstoning solder pastes.
Solder Bridging
This occurs when the solder flows between connectors and causes a short, resulting in wreaking havoc on the device.
We've found ways to reduce solder bridging issues during assembly.
Recommended Products to Reduce Solder Bridging:
Solder bridging can be minimized through the use of SN100C alloy along with excellent fluxes like our NC165 or 159HF.
SN100C
Attributes:
Reduction of hot slump
Fast melting speed
Excellent wetting force
10% reduction in reflow time
Voiding
Voiding in solder joints are a huge headache for manufacturers. From mechanical weaknesses to thermal failure, they can create big problems in devices.
Recommended Products to Reduce Voiding:
Our new Amp One ultra-low voiding solder paste is a no-clean, lead-free solder paste formulated with the specific goal of minimizing voiding.
AMP One Properties:
Low Solder Balling
Halide and Halogen Free
Excellent Wetting
High Activity
Long Stencil Life
View our other solder material applications