Solder Materials for Automotive Applications
With automotive assembly, reliability is the name of the game. Everything needs to withstand intense environments, vibrations, and shocks. Additionally, there's a wide range of needs in every vehicle, from high-tech in-cabin electronics to chassis components that have to hold up in every condition.
That's why our solder paste and other solder materials are designed to last. We've got what you're looking for, whether that's ultra low voiding solder paste capable of withstanding harsh conditions for the powertrain or a variety of liquid fluxes (including halide-free, no-clean, and more).
Advanced Automotive Solder Materials Made to Last
FCT Solder's solder paste, bar, wire, and flux technology are designed to reduce common problems in automotive manufacturing and are thoroughly tested for high performance. From low-temperature solder paste to VOC-free liquid fluxes to help your products meet air quality standards, we've got a wide variety of solutions for your needs.
Why FCT Solder for Automotive Projects?
We take a solution-driven approach to every product we develop. We're intimately familiar with the problems that automotive manufacturers face, from voiding to solder ball formation and beyond.
Materials You Can Rely On
When you order from FCT Solder, you know you're getting:
Fresh paste. Our paste is always made fresh and shipped quickly! Orders ship within four working days.
Low-graping products, with both water-soluble and no-clean options.
Halogen-free and halide-free options with good activity and stability, as well as low VOC products to help you meet air quality demands.
Process Solutions for Automotive Applications
Thermal stress
Thermal stress can be a huge challenge with the high temperatures demanded by the soldering process. Not only do you need to minimize thermal stress to automotive components during manufacturing, but you also need to be confident that everything can hold up over regular environmental stresses.
Recommended products to reduce thermal stress:
We've developed a low-temperature solder paste to help protect semiconductors from high heat required to use solder. Thermal stress can be best managed by using NC722 Sn/Bi58 solder paste which has a melting point of 138-140C.
About NC722
Flux Type: No Clean
Alloys: Low melting lead free, tin bismuth alloys
Classification: ROL0
Halogen: No
Voiding
Voiding is a challenge in automotive manufacturing because it can weaken the joint.
Recommended products to reduce voiding:
While all of our products are created to minimize voiding, this issue can be minimized using our Amp One solder paste. This paste is redefining the voiding standard for PCB Assembly, by combining industry low levels of voiding performance with excellent activity.
Solder balls
Solder balls can form and cause problems with the final product. We've developed products that help reduce their formation.
Recommended products to reduce solder balls:
High activity water-soluble solder pastes like WS890 and WS159 minimize the potential for solder balling. SN100C bar and wire solder are excellent for wave and hand soldering applications and can minimize the potential for solder balling. No clean liquid fluxes such as our NC165 and NC160 protect the solder mask and reduce the potential for solder balling.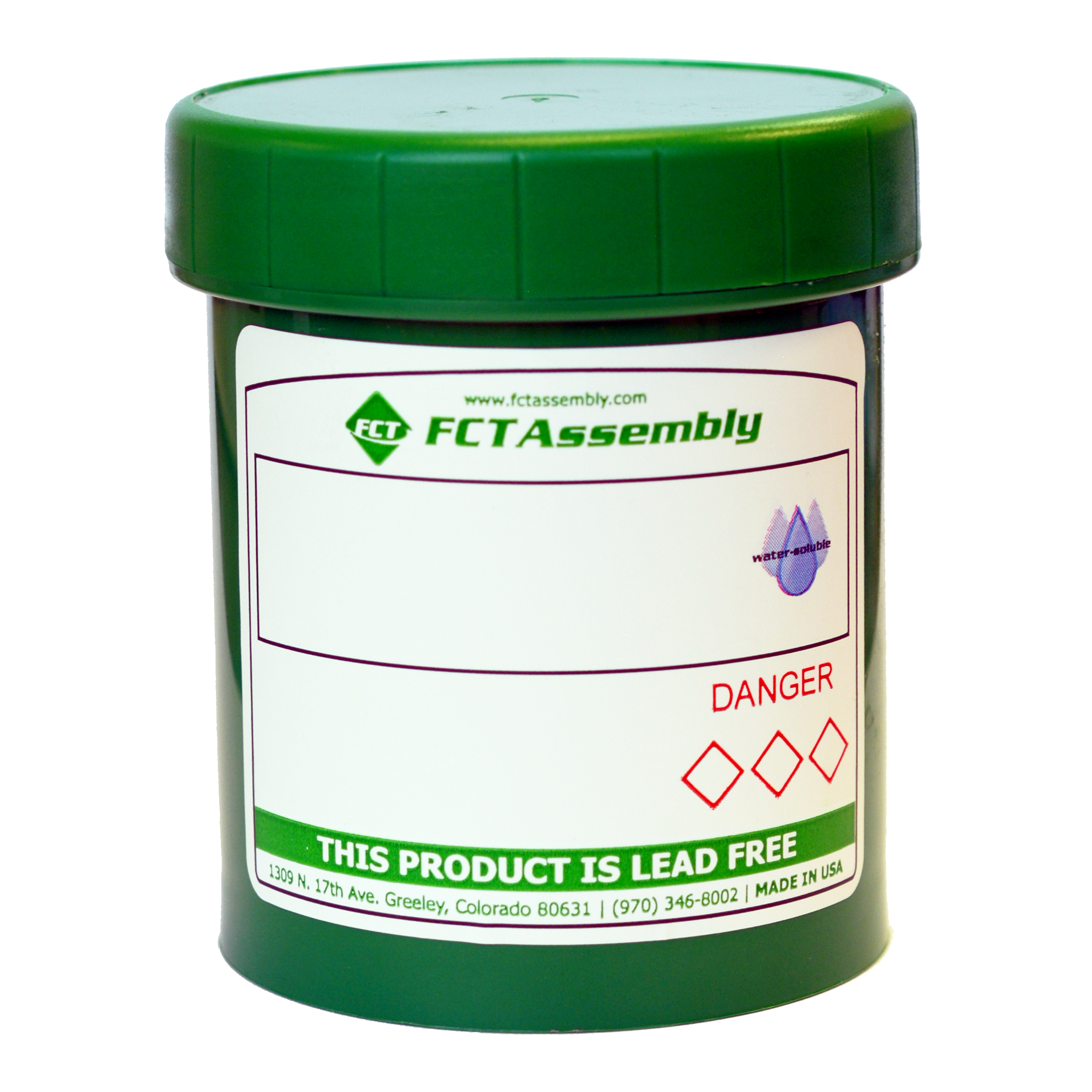 WS890
Attributes:
Flux type: Water Soluble

Alloys: Lead Free

Classification: ORH1

Halogen: Yes
NC165
Halide free
Very little residue
Eliminates solder balling
Low rosin content
View our other solder material applications